Did Jimmy Carter's CIA Sting Destroy Rhodesia A Loyal Cold War Ally?
"It is the story of betrayal of pro-Western Rhodesia to the 'stabilizing' communists in Africa."
How Mugabe Became The Castro of Africa
By Joseph C. Smith self described:
"Air Force Brat gets Journalist Degree and fights deadlines on Houston Post for two years. Joins Army and works very hard to become a Green Beret Officer.Does. One year in Vietnam. Returns to newspaper business. Dayton Daily News, Washington Daily News (DC), Colorado Springs SUN. Recruited by the Rhodesian Army. Commanded African Soldiers for three years against Robert Mugabe's Chinese backed forces. Helped in the first majority rule election."
Editor's Comment: Rhodesians continue to remember and honour those men from other nations, including America like Joseph C. Smith, who became Rhodesian Army Volunteers. Risking everything to fight side-by-side us, some paid the ultimate price for their dedicated commitment to 'hold the line for Western civilisation' against global Communist aggression. History has proved those men right.
Originally published in Soldier of Fortune, February 2009.
The CIA Folds Its Tent
In stunned disbelief, Africa's most famous mercenary, Col. "Mad" Mike Hoare, watched the CIA fold its tent in Africa circa 1976-77.
"Almost overnight, the CIA – once the world's greatest intelligence-gathering service and a major tool in American administration – ceased to count in the affairs of Africa. This came, regrettably, at the precise moment when the future of Africa south of the Equator was in the melting pot, and those of us who had reason to know the CIA's potential for good… mourned its passing."

said Hoare in his 2008 foreword for the re-printed CONGO WARRIORS.
The fiercely anti-communist Hoare, whose mercenary "Wild Geese" purged the Congo of communists in 1964-65 never guessed the CIA hadn't folded its tent but had simply begun working the other side of the street.
Under President Jimmy Carter, in 1977 the CIA launched a massive sting operation bent on destroying tiny Rhodesia (now Zimbabwe) so that Carter's choice – Marxist Robert Mugabe – could be installed by any means. And they did it "in the clear" inside Rhodesia in one of the slickest spy operations ever.
All of central and southern Africa was under communist onslaught, i.e., "liberation movements" from 1960 onward. The Russians, and later the Chinese, both hungry for strategic minerals, partially or totally sponsored and armed ALL the "liberation" movements that swept Africa.
Targeting Communist Camps
Montana-sized Rhodesia, just north of South Africa, began resisting a Marxist takeover bid from 1965 through the end of 1979. With th same British heritage spirit that uilt the empire, Rhodesians repelled the commies by vigorous army and police patrolling in the Tribal Trust Lands and precision "externals" (Rhodesian military operations which targeted terrorist camps in countries bordering Rhodesia-RKB) on communist camps in the Marxist sanctuaries of Mozambique and Zambia.
Communist terrorists (we called them CTs) invaded Rhodesia in groups of six to 60, led by Marxist political commissars. They often raced across Lake Kariba in East German Zodiacs to land terrorists in Rhodesia. (The terror leader of one of these two groups was Marxist Robert Mugabe, who has held Zimbabwe in an iron grip for [at time of writing] 28 years [history has now proven Mugabe was easily replaced by another equally 'useful' tyrant].)
With just a few hundred thousand whites and six million blacks, and the world against them, tiny Rhodesia was running short of men – not expertise – and began recruiting "rifles" from outside their borders, including "Yank" veterans of Vietnam like myself. We were fully integrated into Rhodesia's Army and police units that were then the toughest anti-insurgency force on the planet.
Black Anti-Communists
Lest anyone hallucinate about a snow white force, more than 70 percent of both our police and army were black Africans, effective BLACK anti-communists who fought shoulder to shoulder with whites. In the last few years of the war we had black officers. I had the privilege of commanding African soldiers in the oldest unit, the Rhodesian African Rifles, for the last 37 months of the Rhodesian bush war.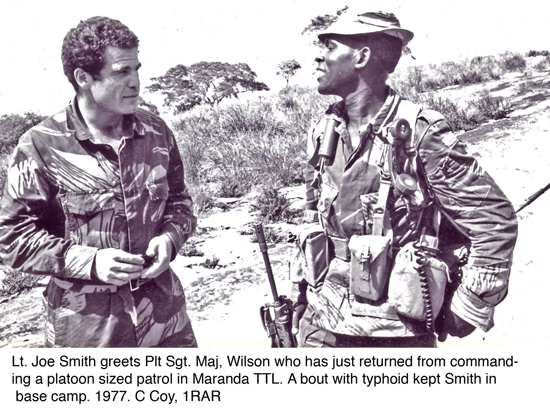 Jimmy Carter, who was inaugurated in January 1977, assigned civil rights icon Andrew Young the portfolio of U.S. Ambassador to the UN, and designated him African affairs point man. Almost immediately it became clear that Carter and Young had anointed life-long Marxist Robert Mugabe – the most sinister of the contenders for leadership – to be Zimbabwe / Rhodesia's new leader. They bowed to the pressure from neighboring "one-party" state African dictators who insisted the "Comrade Mugabe" take the helm next door.
Carter also decided to scuttle Rhodesia via a massive CIA sting operation, in which famous author Robin Moore was the guidon. Moore, who create the legend of the Green Berets with his book The Green Berets, also authored The Happy Hookers and The French Connection. (The Green Berets inspired a movie of the same name starring John Wayne.)
The Most High-Profile Anti-Communist Of 1977
When Robin Moore set foot in Rhodesia in 1977, he was the most high-profile anti-communist and allegedly pro-Rhodesian American in the country. And he had in tow a real life, active duty, Green Beret hero of the Vietnam War – Col. Vernon Gillespie. Rumour had it that [Hollywood's] John Wayne was modeled after Col. Gillespie, and add to this mix Robin's stunner of a wife – actress Mary Olga – and you had the most exciting – and seemingly provdenital – trio to hit Salisbury, Rhodesian since the Rhodesian bush war began.
For Rhodesians, already at war a decade, this glamourous trio must have seemed like a second coming, and just in the nick of time. Nearly out of resources and funds, Rhodesia had expended hundreds of lives in a classic Cold war chapter for an apparently ungrateful West.
But the new gang n town offered hope of recognition by the USA and the Brits as well as redemption in the eyes of the world. Col. Gillespie, while in mufti, openly presented himself as an active-duty Green Beret colonel, and I was told presented himself as an element of the "Company" (CIA), that was fighting secretly to lift sanction and bring Rhodesia into the mainstream.
The Crippled Eagles
With kind of a "wink wink", he left the impression he was a savior who could make miracles happen if only he were given access to the big picture. Army headquarters, thinking the "cavalry had arrived," gave him carte blanche and permission to travel the country. Soon the glamourous trio was ensconced in a Salisbury mansion Robin Moore re-named "The American Embassy of Good Will" and headquarters for an organization called "The Crippled Eagles" – an organization allegedly ympathetic to those Americans (like me) who were bitter about their loss in Vietnam and keen to win a Cold War chapter (he had that part right).
To herd us in, Moore broadcast a standing invitation to homesick Americans on R&R (rest and recreations) to show up any weekend for free cold beer and hot dogs and hamburgers. Soon "The Embassy" was a magnet for any Rhodesian soldier or officer back from the "sharp end"for a few days. Of course, after a few cold ones, they talked.
Col. Gillespie And His Silly Ploy
My only encounter with Col. Gillespie happened at a training site near Essexvale, Rhodesia in the first half of 1977. Six of us "Yanks" were part of a large classical war exercise when out of nowhere, Col. Gillespie arrived with an Army chauffer and asked that all the "Yanks" be sent to him. His mission had the blessing of Army Headquarters in Salisbury.
There was something vaguely sinister and transparent about Gillespie and his silly ploy to gather information about each of us. He told his fellow countrymen he was trying to get the word out about Rhodesia's lonely struggle, and we could help the cause by filling out information on his "Hometowner" press release forms. As former US Army officer, we were all familiar and comfortable with the "Hometowner" release format.
As the former information officer and spokesman for all the Green Berets in Vietnam, I was intimately familiar with the form. You printed your name, home address, and military unit on the form, which was then sent to your hometown paper. In a few weeks the local paper published a small blurb about Specialist Numb Gums getting transferred to Ft. Bragg. Mom and Dad loved it.
Refusing To KowTow To A Mole
Gillespie also wanted tape recordings from all of us so he could send the tapes to "friendly" radio stations. Obvious to me, but not to my fellow officers, was that few Rhodesia-friendly news outlets existed in the USA or any place else. What Gillespie wanted, of course, was information he coud send to Langley, Virginia about us Yanks. But was Langley the only recipient of the information?
To my shock, the other Yanks jumped to Gillespie's request; but I did an "about face" and walked out of the tent. Of course, Col. Gillespie invited us all to the "American Embassy" in Salisbury on our next R&R.
Really curious, I DID show up at the pseudo-embassy on my next R&R, and was immediately met by Robin Moore and his dazzling wife Mary Olga. After a few pleasantries, Robin directed me towards the cold beer and hamburgers. But I hadn't taken two steps before I was mobbed by half a dozen photographers who took my picture from every angle. Not a word about "Hometowners" from them. They said nothing and disappeared as quickly as they appeared.
I joined the other Rhodesian soldiers, mostly bearded Selous Scouts, and shook hands with their famous commander, Col. Ron Reid-Daly. It was an honor. I was the only Yank that afternoon. But, as they say, I knew I had been "made", so I left and never returned. (When I finished my 37-month tour at the war's end and returned to the USA, I discovered I had been blackballed by every security firm that had any connection o contract with the government.)
The Slickest Of Schemes
But Moore and Gillespie had the slickest of schemes. March in a real war hero along with the world's most famous anti-communist novelist, and throw a lifeline to a drowning nation. And do it in the open, in the clear, and it works from all angles. Good Rhodesian soldiers and officers, convinced they are saving their nation, funnel valuable intelligences to Moore and Gillespie.
Unit names and troop strengths. Tactics, weapons, troop movements and future operations plans. The usual. All to CIA HQ in Langley, Virginia, but did it ever reach the hands of a Robert Mugabe or the other terror faction leader – Joshua Nkomo? Did any of that spy data end up killing Rhodesians or Americans?
CIA Involved In Toppling Rhodesia
Seven Americans were killed fighting communists armed with AK-47s and shoulder-fire antitank rockets (RPG rockets). They were Sgt. Hugh P. McCall, Sgt. Richard L. Biederman, Corporal John A. Coey, Trooper George C. Clarke, Trooper Frank P. Battaglia, Trooper Joseph P. Byrne. All saw their fight as a noble anti-communist fight for the survival of the West. Two of the Americans – Sgt. McCall and Trooper Byrne – were killed AFTER Robin Moore's entourage arrived in Salisbury.
Trooper Joseph Patrick Byrne – killed by an AK – 47 round –was the favorite uncle of New Jersey businessman Rich Byrne, who still grieves and has lingering questions he planned to ask Robin Moore before the famous author died in February of 2008.
"I have long suspected that the CIA was involved in the toppling of Rhodesia and have had my suspicions about my uncle's best friend Robin Moore. There is little doubt that Gillespie was the CIA operative in the field who was throwing vital information over the fence to his case officer. One just has to wonder who else was involved in this CIA ring," said Byrne.
"The whole thing stinks. It always has. In fact, Robin opened his house up to me and I was to spend some time with him right before he became ill. I had many questions for him and he seemed receptive to answer them for me, but ended up on a ventilator a few days later. Now the truth goes with him," Byrne said.
A Story Of Betrayal
"The only thing I know for certain is that Robin brought my uncle to Rhodesia and felt extremely guilty about his death. So much so that he dedicated his book The White Tribe to him and named the character Carey O'Donnell after him."
Digging for the truth, Rich Byrne unearthed what I call the "smoking gun." A May 2000 letter that Robin Moore sent to his mentor and hero, retired Lt. Gen. William P. Yarborough, who molded the Vietnam-era Green Berets and whose name has been linked to many CIA operations. The letter, from Gen. Yarborough's archive, is a paean by Moore to his hero on Yarborough's 88th birthday.
"…And when you mentioned Rhodesia and Ian Smith and Peter Walls to me, I got all fired up all over again. And at fifty, ten years after Vietnam, I took off for Rhodesia in 1976 after considerable briefing from you." writes Moore. "That was a great adventure which we shared and I was always glad you saw and stayed at my 'American Embassy of Good Will.' My guys, former Berets, Brits, Aussies, Germans Frenchmen , Foreign Legionnaires, put up a great fight alongside the Africans who wanted freedom, not a communist Mugabe and Nkomo," Moore continued.
"Sad to say, I couldn't beat a combination of Jimmy Carter, Andy Young, the lefty Brits led by Dr Owens and, of course, the adder in my own fruit basket, Vernon Gillespie (who of course was only obeying his orders from Jimmy Carter's CIA). That was why I did not give the go ahead to the many Americans and others who wanted to take him out on a patrol from which he would not return."
An Execution Order
"I don't know if I ever told you," said Moore, "but the guys even tried to get Mary Olga to give the execution order. Fortunately, by then she had enough experience behind her to realize these guys didn't joke. They meant it, they just wanted orders from what they considered to be the top of their group to do it," Moore concluded.
Moore left Rhodesia sometime in 1978. We held our first majority rule election in April 1979, and it was deemed to [be] fair and open by international observers. Methodist Bishop Abel Muzorewa garnered 54 percent of the votes, including mine. A referendum before the election indicated 85 percent of the whites were in favor of majority rule, but NOT one-party Marxist rule.
After the election, Zimbabwe / Rhodesia held its collective breath and waited for British recognition and lifting of sanctions. But behind the scene, Ambassador Andrew Young lobbied for a second election to ensure Marxist Mugabe actually came to power to appease the wished of post-colonial African dictators in the neighborhood.
Tribute To The White Tribe
While the fate of tiny Rhodesia teetered in the balance from April to September, the normally high profile Robin Moore seemed to drop off the radar. Not a peep. Did someone make him an offer he couldn't refuse? Twelve years later, when Zimbabwe was lost to a Marxist tyrant, Robin wrote The White Tribe and dedicated it to Rich's uncle – Trooper Joseph Patrick Byrne. Publishing the book in 1991, Robin says in the foreword,
"It is the story of betrayal of pro-Western Rhodesia to the 'stabilizing' communists in Africa."
The novel seems to be very close fictional overlay of the scene I observed. Novel character Alvin Glenlord could be the Roger Masfield character. In real time, Robin observed Gillespie spying on Rhodesia and made no public outcry in 1977, '78, or '79.
Gillespie was not the only Green Beret operating at the time in Rhodesia, I learned quite by accident more than a decade after returning to the USA. As a former Green Beret and Vietnam veteran, I was a member of Chapter XV – San Antonio, of the Special Forces Association. We held our annual picnics at Canyon Lake.
At the 2002 event, Chapter President Armando Canales brought one of our members over and said to me, "Mike was also in Rhodesia and you two guys ought to meet." Immediately Mike asked me is I knew knew a certain Rhodesian officer and, stunned and excited, I said, "Yes, he was one of my commanders! How do you know him?" A long and painful silence followed and I stupidly asked, "Were there many of us (green Berets) over there?"
On The Wrong Side
"Yes," Mike replied, and another sad silence enveloped us before Mike asked – without wanting an answer, "I was on the wrong side, wasn't I?"
I didn't respond We never spoke again. Why would we? No anger. Had I been in uniform, and ordered to go to Rhodesia, of course I would have gone. I have no idea what Mike and the other Special Forces were doing in Rhodesia.
In an 8 March, 1980, San Antonio Express News article, I predicted Jimmy Carter's selection – Robert Mugabe – would become "The Castro of Africa."
My predictions have come true.